Safe Motherhood: Stanbic Bank recognized for investing in maternal and newborn care
Diana Ondoga, the Stanbic Manager of CSI said "the bank is honoured to receive the award from the Ministry of Health, National Safe Motherhood Committee.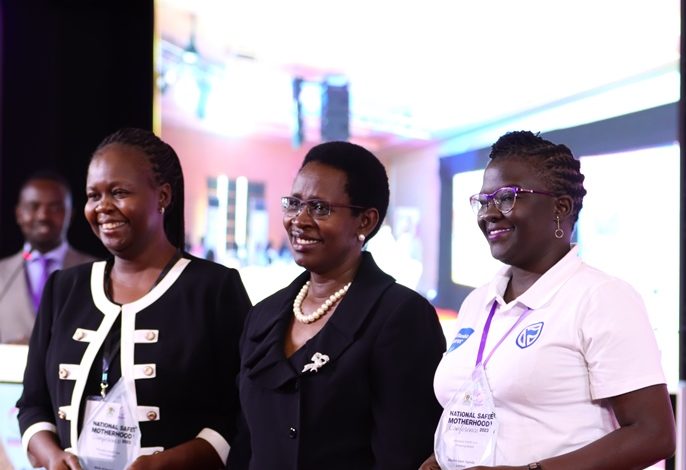 Stanbic Bank Uganda has been awarded for 'Outstanding Contribution to Safe Motherhood-Alternative Health Financing' at the recently concluded 3rd National Safe-Motherhood Conference held in Kampala during midweek.
The two-day conference was organised by the Ministry of Health under the theme, 'Reach every mother; Reach every newborn'.
Participants from across Uganda and beyond discussed how to improve family planning, maternal and child health indicators by strategically strengthening the outputs of the health workers at all levels of service delivery.
Stanbic Bank, which is the anchor subsidiary of Stanbic Uganda Holdings Limited, was recognized for investing UGX6 billion during the past five years, in corporate social initiatives, focusing on maternal and newborn care.
These funds have facilitated the purchase and distribution of mama kits and essential medical equipment to more than 30 healthcare facilities nationwide. Under the guidance of Anne Juuko, its Chief Executive the bank collaborated with the health ministry to establish the Corporate Society for Safe Motherhood.
This is a partnership that encourages corporate entities to invest in maternal healthcare. Currently, Stanbic Bank leads the Safe Motherhood Fund, mobilizing resources to bolster maternal and newborn healthcare services, making a significant impact on Uganda's healthcare landscape.
Diana Ondoga, the Stanbic Manager of CSI said "the bank is honoured to receive the award from the Ministry of Health, National Safe Motherhood Committee. She said it is a testament of the outcomes yielded from the partnership of joining the noble cause to eliminate preventable maternal and neonatal deaths in Uganda."
She said, "We have not walked this journey alone and would like to extend gratitude to Uganda Breweries-Spirited Women, MTN Uganda, URSB, Movit, UCC among others. Aligned to SDG 17, when we come together, the community benefits. We can't wait for a day when we are celebrating zero maternal and neonatal deaths as a country".
"Through the Corporate Society For Safe Motherhood, we believe that as a country we can make a massive contribution by making a financial contribution to the safe motherhood fund which is a mechanism established as an alternative financing model to meet the needs within the maternal space in the country". She said.
Bank of Uganda, the other recipient of the same award and a member of the Corporate Society for Safe Motherhood, provided essential medical equipment to 11 healthcare facilities spanning the nation. Over the past four years, BoU's investments have totaled UGX5.5 billion.
Dr. Diana Atwine, the Permanent Secretary of the Ministry of Health said there had been a drop in Uganda's Maternal Mortality Rate from 108 to 90 per 100,000 live births.  The Neonatal Mortality Rate has also reduced from 27 to 18 per 1000 live births.
She said, "This improvement is attributed to increased access to maternal health services. Within five years, we have increased health centre IIIs (HCIIIs) by up to 411 facilities; 380 as upgrades from HC IIs and 31 as completely new facilities. We have also managed to upgrade 10 HC IVs from HCIIIs."
"All these efforts combined with those of our health workers that are committed to serve our people plus support from our partners is what accounts for this great improvement. Now we need to focus on the pending reasons why we still lose those mothers and babies that account for the negative statistics. We should decisively deal with Issues like absenteeism and negligence by some of our health workers, traditional birth attendants, teenage pregnancy which alone contributes to 12% maternal mortality," she said.
Major objectives of the conference included disseminating good standards of practice and enabling shared learning among frontline health workers and leaders of safe motherhood in Uganda.
Participants also discussed the missed opportunities facing approaches towards reaching every mother and newborn as well as establish the prevailing impact from the existing investments in family planning towards improving maternal and newborn health – health and economic outcomes.