TotalEnergies, Uganda Manufacturers Association sign a three-year partnership ahead of the annual international trade fair
TotalEnergies Marketing Uganda Limited has today supported Uganda Manufacturers Association (UMA) financially with UGX 150million towards the upcoming 28th Uganda International Trade Fair, the first in 2 years following the out-break of the pandemic in 2020.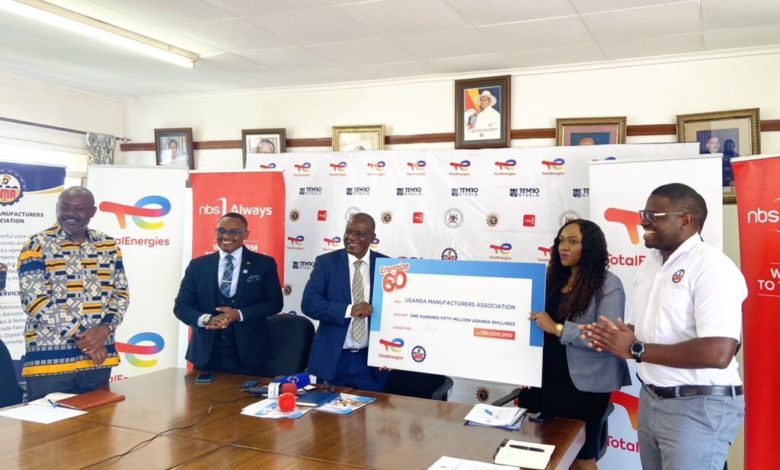 TotalEnergies Marketing Uganda in the next three years will work with Uganda Manufacturers Association (UMA) to promote Small and Medium Enterprises (SMEs) to showcase their products and services at the annual International Trade Fair.
And as a commitment, TotalEnergies contributed Shs150m towards the upcoming 28th Uganda International Trade Fair slated to take place from 3rd – 10th October 2022.
This financial support, the two entities said, is made to help SMEs recover from the disruption of the Covid 19 pandemic.
The contribution was Thursday dispatched at the ceremonial signing of a 3-year Memorandum of Understanding (MoU) between TotalEnergies and UMA in Kampala.
The MoU aims to foster trade and economic recovery in the next 3 years.
Daniel Mayieka, the Managing Director TotalEnergies Marketing Uganda, said they are committed to sustainably energising businesses in Uganda through creating an enabling environment for SMEs and their customers.
The trade fair at UMA show grounds will be under the theme, "harnessing economic recovery, through local sourcing and deepening value chain integration."
The UMA Uganda trade fair is anticipated to attract 300,000 visitors and businesses from within the country, region and international level.
The MoU signed between TotalEnergies and UMA comes at a time when Uganda will be celebrating 60 years of independence next month.