Chinese doctor dedicated to treating patients in eastern Rwanda
Over time, Li believes working in Africa provides a unique experience.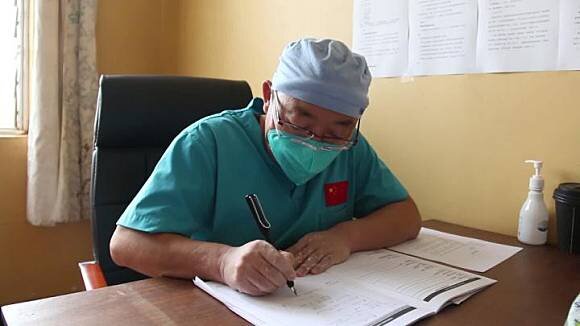 As a middle-aged Rwandan man suffering from a hernia was waiting quietly in pain on an operating table in a room of Kibungo Hospital, eastern Rwanda, one day in late September, anesthesiologist Chen Zhihong and nurses were tensely preparing him for an operation.
The surgery was done by Li Junsheng, a surgeon of the 22nd Chinese medical team in Rwanda, and it lasted more than an hour and proved a success.
It was Li's sixth trip to Rwanda to offer medical care at Kibungo Hospital in the Eastern Province. He first visited Rwanda for medical care in 2007. He has since lived in the country for nearly 10 years, offering medical care.
"Doing well in foreign aid medical work has been a guiding principle. There is a great need for doctors in Rwanda where patients with some common and frequent diseases are often not treated in time. Our knowledge and technology can really help local patients," said Li.
Li, 51, recalled when he first arrived in Rwanda for foreign aid in 2007, he encountered many difficulties when communicating with local medical staff due to cultural differences. He, however, gradually learned to work with the local medical workers and patients over the years.
Having worked with Chinese doctors for a long time, Pierre J. Nsengiyumva, the hospital's head nurse, said Chinese doctors are playing an important role. Besides their knowledge and skills, Chinese doctors are known for their compassion toward patients, said Nsengiyumva, who has also become Li's old friend.
"Dr. Li especially has a very good understanding of the hospital and has rich surgical experience. We need professional doctors like Dr. Li," said Nsengiyumva. "We like working with him and I can't imagine him leaving us."
The head nurse said it was easy to see Li's dedication and professionalism. "Even if Dr. Li is off duty, if the hospital calls him, he will always say, 'I'm ready,' and he is always available when we need him."
Rwanda has a shortage of orthopedic doctors. Nsengiyumva said that there was no orthopedic doctor at their hospital before the arrival of the orthopedic doctor Ma Xiaofeng from China, who has also solved many problems for the hospital.
"If there is no orthopedic doctor, some patients will be referred to a distant hospital, yet they may not have the money to go elsewhere. Patients prefer staying at this hospital where they will be close to families and assured of good care with a team of Chinese specialists to monitor their conditions," Nsengiyumva said.
Every Tuesday and Thursday are operation days for Chinese doctors. Li on average performs six surgical operations each operation day and eight operations at most. His compassion to treat people has led him to dedicate his life to providing quality medical care in Rwanda.
He often has lunch at two or three o'clock in the afternoon due to his work schedule. "As soon as I get on the operating table I can only concentrate on the operation," Li said happily.
Many poor people visit the hospital to see a doctor. The distance is long, along a hilly road.
Li understands the difficulty of the people and has always treated each patient with the spirit of "the doctor's benevolence." Every time he went out, he found a long queue of patients with common diseases to attend to.
"I have developed the benevolence spirit over the years," he said.
With his rich experience in foreign medical aid and a warm and forthright personality, Li has become the "big brother" of the medical team.
Diligence and having a benevolent heart are essential to providing quality care in foreign aid medical work, he said.
Because there is no clinical minimally invasive medical equipment, such as endoscopy, angiography, etc., Chinese doctors have to rely on excellent technology during surgery to solve the problem by opening the incision smaller.
Critically ill patients do not have ICU care after surgery, and doctors need to conduct ward rounds often after surgery.
"Due to the difficulties, it is necessary to use your own initiative, adapt to local conditions, and solve practical problems according to the existing local conditions," Li stressed.
Even though some patients cannot afford proper nutrition due to financial constraints during postoperative recovery, they receive support from Chinese doctors, who often send their own breakfast to the patients, "all of which requires a kind heart."
Over time, Li believes working in Africa provides a unique experience.
"China's foreign medical aid has indeed solved many health problems for the middle and low-income people in Africa. As a doctor, being able to treat diseases and save people, and gain the trust of patients and hospitals makes me realize my personal value," he said, stressing he has gained African friends in the process. "People's hearts are connected and fostering friendship between Chinese and Africans gives meaning to our foreign medical aid."
The Chinese government sent the first Chinese medical team to Rwanda in 1982. Over the last four decades, 22 medical teams and more than 270 Chinese doctors have received 10,000 patients and performed more than 1,000 surgical operations in Rwanda.