Standard Chartered Bank, Voluntary Services Overseas unveil Shs1.4bn programme for youth empowerment
The programme unveiled by the Minister for Kampala Hajjat Kabanda at Hotel Africana in Kampala comes with an Shs1.4bn financial support from Standard Charted Foundation.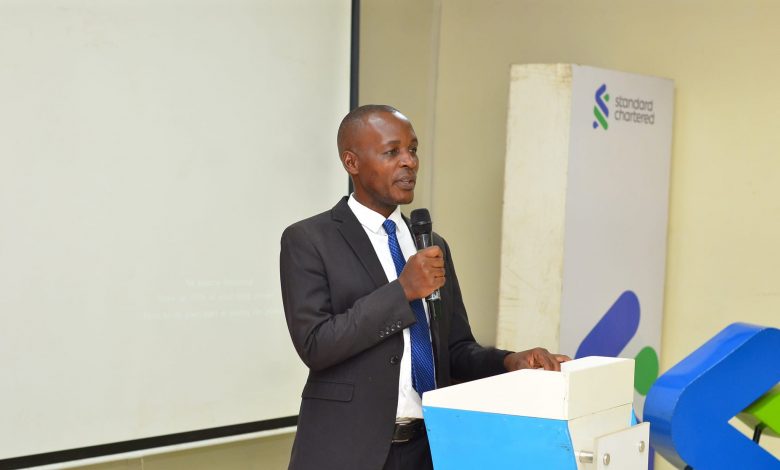 Standard Chartered Bank Uganda in partnership with Voluntary Services Overseas and other local government agencies Tuesday launched Phase II of the Youth Empowerment, Entrepreneurship and Decent Employment program (YEEDE).
The programme unveiled by the Minister for Kampala Hajjat Kabanda at Hotel Africana in Kampala comes with Shs1.4bn financial support from Standard Charted Foundation.
Phase II of the YEEDE programme aims to improve the employability skills of 200 excluded young people and people with disabilities, enhance entrepreneurship skills for 300 young people, including people with disabilities and support 400 youth and young people to start and grow businesses in competitive sectors by the end of the year.
Also, the programme will support the financial inclusion of 500 youths to access both non-formal and formal financing opportunities and contribute to the creation of an enabling and supportive institutional policy and advocacy environment for entrepreneurship and employment in productive sectors.
In Uganda, the project will be implemented in areas around Kampala District –  Nakawa, and Makindye Divisions and in Wakiso District; in Nabweru, Nansana Municipality.
The Phase I YEEDE programme in partnership with a disability, women, entrepreneurship and local government agencies reduced unemployment among 500 youth by 60% (women), 40% (men) and 5% (PWDs).
The programme also promoted financial empowerment through training youth on financial literacy, enrolling them in community-based vocational classes, and fostering their attitude to save, and becoming an entrepreneur by giving them start-up kits.
At the launch, Margaret Kigozi, the Head, Corporate Affairs, Brand and Marketing Standard Chartered Bank Uganda said they are committed to lifting the participation of youth, persons with disabilities and SMEs by promoting the social and economic development of young people from low-income households.
"Our intent is to provide transformative opportunities and fundamentally transform the lives of the youths by enabling them to build their own bright futures and navigate the various challenges they are faced with. I am confident that with this future makers programme donation, we will make a significant impact in the lives of the beneficiaries.
"In partnership with our implementing partner – Voluntary Service Overseas, we will continue to work alongside other stakeholders and the Government to strengthen the capacity of young people, especially girls and people with disabilities, through employability skills, entrepreneurship and improving their chances of getting jobs and even empower them to start up their own businesses," She concluded.
VSO Project Implementation Lead William Mugerwa said that it is no secret that job prospects are poor for all young people, but the situation is even direr for vulnerable youth. They face many barriers to employment due to a number of issues like disability, gender, insufficient skills, low education attainment, cultural attitudes or limited opportunities in the job market, he said.
Adding: "Women and PWDs are at major risk of poverty, yet research shows that homes where PWDs live are headed by women. It is also sad to note that even when persons with disabilities do have the necessary qualifications, they still struggle to find employment. This is due to discriminatory attitudes towards PWDs and most workspaces not being inclusive."
"It, therefore, gives us immense pleasure to implement Phase II of the YEEDE programme that is funded by the Standard Chartered Foundation with a partner like Standard Chartered Bank Uganda whose solid partnership, oversight and volunteering will once again ensure the successful implementation of this project," he noted.
While launching the event, the Minister of State for Kampala Sarah Mateke Nyirabashitsi commended the Bank and its partner for this initiative stating government will continue to put several measures in place and offer various support to the youth.
Shakira Nabukera, 25, a beneficiary of the Phase I YEEDE programme testified that after dropping out of school in primary seven, being a member and leader in one of the VSLAs groups has given me financial empowerment.
"I have managed to save Shs360, 000, and I have accessed Shs700, 000 in a loan. I used the loan to finance the building process of my rental houses (single-room houses). I expect to earn Shs100, 000 per month from each room when the work is complete," she said.
Allen Sserunjoji, another beneficiary of phase 1 took out a loan worth Shs50, 000 and started a charcoal business in July last year. "It is doing well, I earn between Shs7, 000 – Shs10, 000 per day. With this money I have been able to pay my daughter's school fees; she is in nursery school (Shs120, 000). I have also been able to keep up with the house rent (Shs80,000)," Sserunjoji said.